Atlanta, GA
27 April , 2017
Gift Miles offers an average of 30% bonus miles to Members, without compromising industry-leading, low commission fees.
Loylogic has recently launched Gift Miles, a new Akruu.com feature, which gives program members the ability to purchase miles for their friends and family. As with all other ways of earning on Akruu, Gift Miles offers the best value per mile purchased to the consumers which in turn ensures increased engagement and improved economics for the programs.
Zurich , Switzerland
04 May 2017
dacadoo AG, a leading global digital health engagement platform, and Loylogic Inc., the global leader in e-commerce and e-payment solutions for loyalty programs, announce a global strategic partnership. dacadoo will integrate Loylogic's reward solution and shop in its digital and mobile health engagement platform to offer a seamless end-to-end user experience to the members of dacadoo's Health and Life Insurance clients as well as other customers around the world.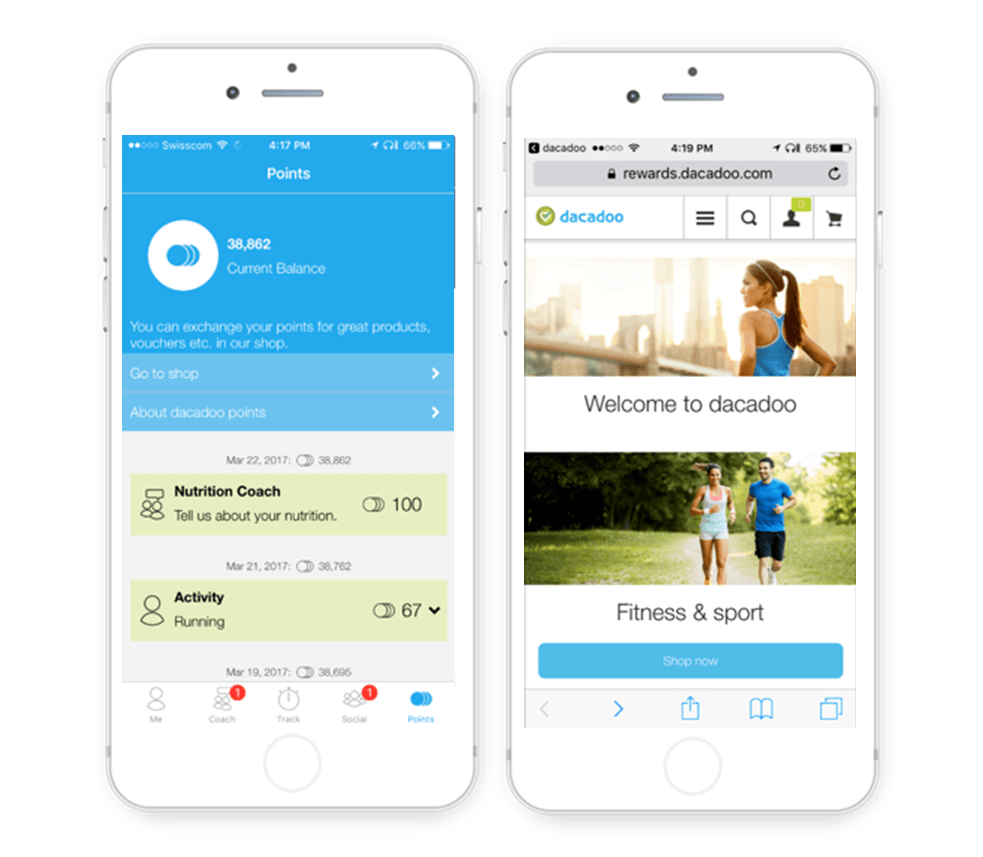 Dubai and Zurich
15 March 2017
Loylogic, the global leader in e-commerce and e-payment solutions for loyalty programmes, and Jumeirah Sirius, Jumeirah Hotels and Resorts' global recognition and rewards programme, are partnering to design and deliver a state-of-the-art reward solution for Jumeirah Sirius' global membership base.
Zurich and Copenhagen
23 August 2017
Loylogic Inc., the global leader in e-commerce and e-payment solutions for loyalty programs, and Coinify ApS, a leading blockchain payment service provider, announce a strategic and innovative global partnership. The new feature, which continues to offer millions of loyalty program members with unparalleled flexibility by providing Bitcoin as a redemption option, can now be found on Loylogic's industry leading Reward Experience Platform.

Enrich Announces Partnership with Akruu
Atlanta, GA – November 10, 2016
There Are Now More ways to earn miles for Malaysia Airlines' frequent flyers.
Atlanta, GA – December 7, 2016
Now, you can earn Royal Plus Miles on Akruu.com.
Akruu is the new, smart way, for Royal Plus members all over the world to earn more miles by aligning Royal Plus award miles accrual with consumer lifestyle. Akruu offers a revolutionised way of earning by bringing together multiple ways to accrue, along with an increasing selection of loyalty currencies into one website.
London, UK
27 March, 2018
Ivo Knottnerus
Sales & Business Development Director
Why do people seem so busy? I mean always and all of the time? Part of this is a perception problem. On average, people in the wealthier countries have more leisure time than they used to have 20 years ago. This is particularly true in the United States, but even in Europe leisure time has been going up steadily since 1965, when formal national time-use surveys began. Europeans work nearly 12 hours less per week, on average, than they did 40 years ago - a fall that includes all work-related activities, such as commuting and coffee breaks.
Zurich, Switzerland
15 August, 2017
Judith Raymakers
VP Strategic Partnerships
Member engagement is an essential business priority for loyalty programs and member redemption serves as a conduit to drive engagement. Because redemption offers the opportunity to better connect with your members, encouraging earlier redemption in the member lifecycle can be extremely beneficial and lucrative to your loyalty program.
London, UK
22 March, 2018
Akif Khan
Head of PointsPay
Think online shopping and payments, and you most probably think of the stereotypical image of credit card details being entered onto a checkout page. However, in a surprisingly large number of markets, this isn't the case. Whilst credit and debit cards are prolific in many regions, there are just as many others where they are not. Within the world of ecommerce, paying online without directly using your payment card is known as using an alternative payment method, or APM. The growth in the use of APMs is an important trend that the loyalty industry should be following. There are over 300 APMs in use globally. These range from bank transfer-based systems such as iDEAL in the Netherlands or Sofort in Germany, to direct mobile carrier billing systems such as Boku, to e-invoicing services like Klarna.
Zurich, Switzerland
6 September, 2017
Loylogic Inc., the global leader in e-commerce and e-payment solutions for loyalty programs, displays the impact a powerful reward solution can have on a loyalty program and brand.



Ben Ashwell, Head of Akruu
Even as more and more consumer spend shifts online, one aspect of online customer engagement has failed to keep pace with the growth of ecommerce: online earning in consumer loyalty programs. This lack of growth in online earning persists despite the desire of members to interact with their favorite loyalty program online. If consumers seek online earning opportunities, then how can brands accommodate them? Ashwell reveals the challenges to creating online earning velocity, as well as the opportunities for brands to build loyalty through the next generation of online earning portals.